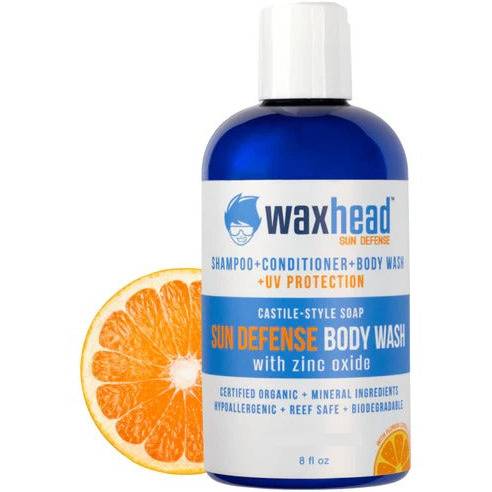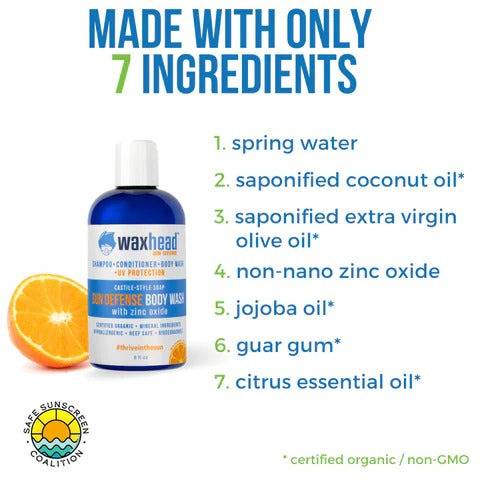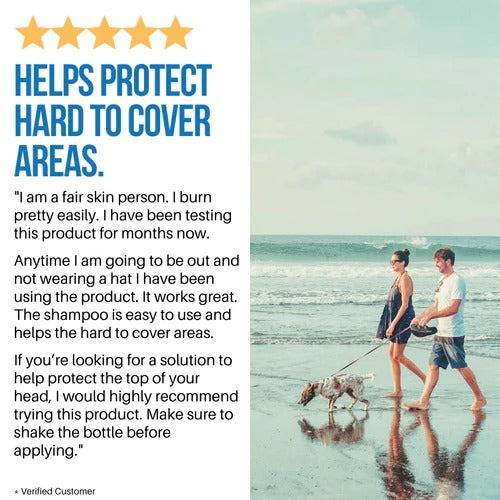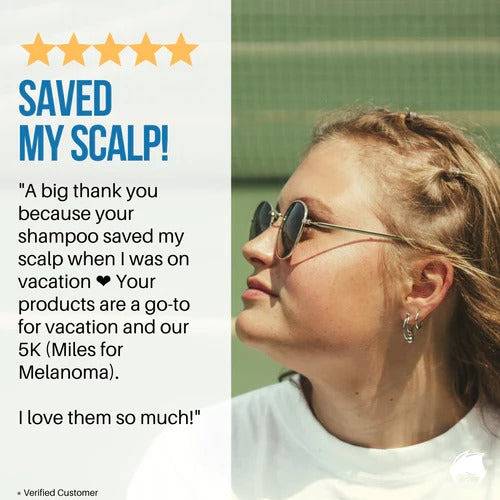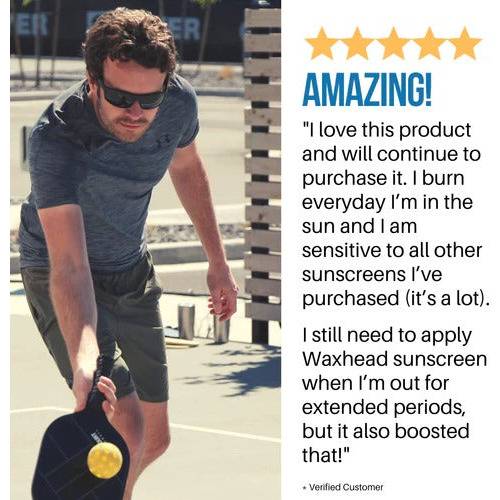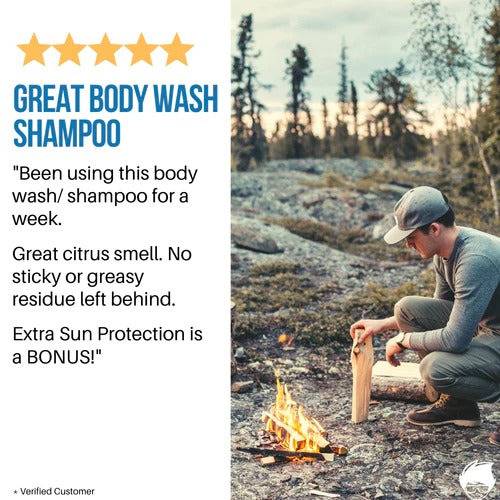 UV Defense Shampoo + Body Wash
Pickup available at Bait Shop location
Usually ready in 2-4 days
UV Defense Shampoo + Body Wash
Bait Shop location
Pickup available, usually ready in 2-4 days
904-0323
Okinawa Yomitan-son Nakagami-gun, Okinawa, Japan 915 Takashihio
Japan
+818064913937
Daily sun protection for tough-to-cover areas like scalp and neck. Cleans, conditions and provides sun protection in one step. Moisture-rich cleaning with organic coconut oil to nourish skin and hair.

 Boosts daily UVA/UVB/UVC protection to hair and skin
 Smooth Castile-style soap with no synthetic detergents or toxins
 Protects hair from sun exposure to minimize damage and dryness
 Non-nano zinc oxide

 

controls dandruff and actually slows hair loss
 Hypoallergenic and will not clog pores
 Biodegradable and safe for the environment
 Lightly scented with Florida citrus essential oil
 For all hair types (works best on short hair)
Waxhead Sun Defense Body Wash
Cleanse, condition, fortify, and defend your face, skin, and hair with our UV Body Wash. Created using holistic biochemistry, it boosts UVA/UVB/UVC protection from daily, incidental sun exposure.
Unlike common body washes, it leaves a thin layer of protective zinc oxide and moisturizing oils on your skin and hair, working great on trouble areas like the top of ears, scalp, and hands.
As a shampoo, it not only adds shine and improves the texture of hair, it helps control dandruff, while the zinc oxide actually encourages hair growth and adds UV protection to the scalp of thinning hair.
NOTE Our Body Wash boosts UV protection for face, skin, and hair and helps protect areas difficult to cover with sunscreen, such as scalp and ears. However, if you're planning to spend extended periods of time in the sun, please also use safe sunscreen.
Non-Toxic
Plant-based, vegan, certified organic and mineral ingredients, biodegradable, ocean safe, baby safe. Cruelty Free, Silicone Free, Sulfate Free, PABA Free, Paraben Free, Phosphate Free, Aluminum Free. NO petrochemicals. NO oxybenzone.
Uncommonly Safe
Developed through modern holistic biochemistry, our skincare products are purely beneficial for humans and the planet. Made with only certified organic and superior quality mineral ingredients.
Why Choose Waxhead?
Because Biochemistry Matters
Waxhead products are designed using top-level biochemistry knowledge.
We use a complete holistic appreciation for how our formulations react with skin in the sun and how they affect our environment.
Because We Take Care of our Customers
We pretty much cherish our customers. When they have questions about skincare, we give our full unbiased info and opinions.
In the rare instances when they have problems, we do all we can to make them happy.
---
"Waxhead is one of the best sunscreens for kids."

"Waxhead is one of the best Beach & Sport, Kid-Friendly sunscreens."

"Waxhead provides full protection and you won't damage the oceans."

Uncommonly Simple Ingredients
Waxhead uses only clean, simple ingredients to protect your skin and planet. We combine modern holistic science and ancient ingredients used for thousands of years. Our products contain only superior quality, certified organic, edible-grade ingredients, and NO petrochemicals.

 
Body Wash Ingredients
1. Artesian Spring Water
2. Certified Organic Saponified Coconut Oil
3. Certified Organic Saponified Extra Virgin Olive Oil
4. Non-nano Zinc Oxide
5. Certified Organic Jojoba Oil
6. Guar Gum
7. Citrus Essential Oil
Directions
Shake the bottle before use.
Wet face, skin, and hair with water.
Massage Body Wash into a white lather over the entire body and scalp.
Rinse to leave your skin soft and refreshed.
Pat dry. It's also great at taking off Waxhead Sunscreen at the end of the day.
We are thoughtfully committed to health, sustainable practices, and the environment. We blend modern science and old school sense to design eco-friendly tools to help humans thrive in the sun without worrying about skin cancer or toxins. Choose Waxhead for your skin, your health, and your planet. The sunscreen you use matters and make no mistake, Waxhead is THE best choice you can make for healthy living in the sun.
Ingredients matter.
Regardless of marketing messages, it's the actual ingredients within a sunscreen formulation that matter. Waxhead ingredients are without equal, from top-grade non-nano zinc oxide to our roster of certified organic inactive ingredients.
Waxhead far exceeds ingredient ban standards.
Instead of just eliminating oxybenzone or octinoxate, Waxhead sunscreens don't contain ANY petrochemicals, meaning they're TRULY reef safe. In environmental terms, user-borne petrochemicals, many from products labeled as reef-safe (which is an unregulated term), account for an oil spill the size of the Exxon Valdez every three years.
Waxhead products nourish skin.
Our products don't just avoid harming skin. They actively nourish it, with certified organic ingredients like extra virgin olive oil, coconut oil, and jojoba oil, natural vitamin E and vitamin D, shea butter, and beeswax. After a day of wearing Waxhead in the sun, your skin actually feels good.
Our eco-friendly apparel.
We make our clothing from fabric of 100% recycled plastic fibers, without any added dyes. Our fair-trade production processes use 65% less energy and reduce greenhouse emissions by 35%.
We take care of our customers.
Actually, we pretty much cherish them. When they have questions about sunscreen, whether we make it or not, we give them our full unbiased info and opinions. In the rare instances when they have problems or complaints concerning our products, we do all we can to make them happy.
Buy Waxhead, protect our coasts.
Besides making human-friendly, eco-friendly products, we give a portion of our profits and our time to support well-run coastal and oceanic conservation and cleanup organizations. We consider this vital to help preserve fun sunny days for generations to come.
We Love Fishing!
We love it so much that we have made it
our life's mission to share our passion for sport fishing with as many people as possible, by giving everyone the most action packed and safest fishing experience
possible, at the most competitive and affordable price possible.