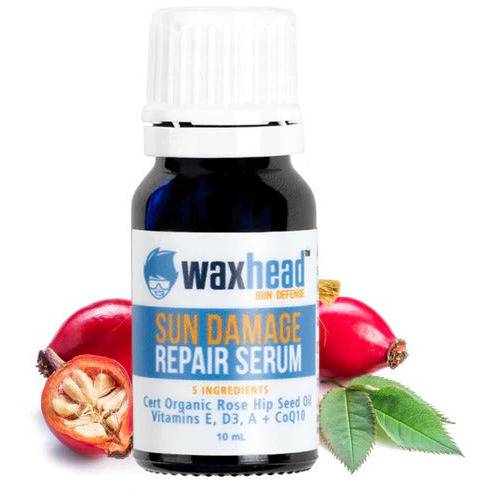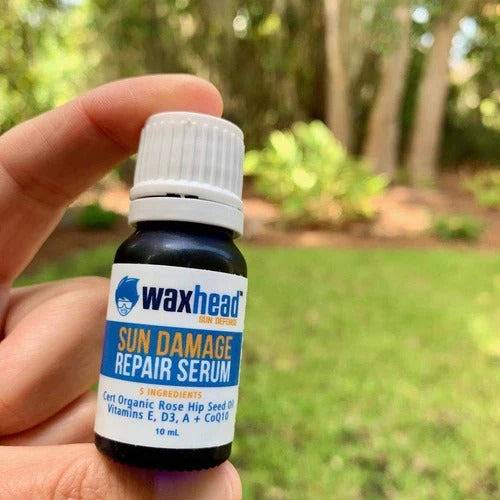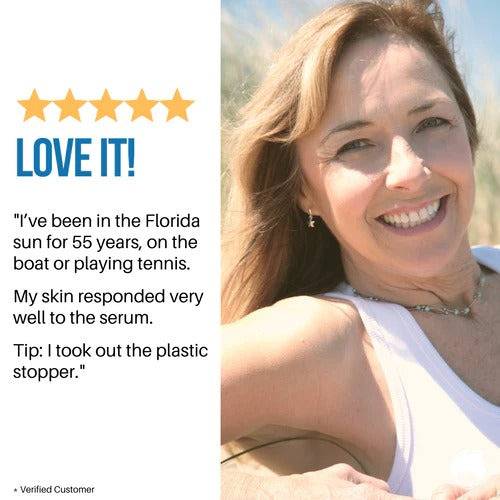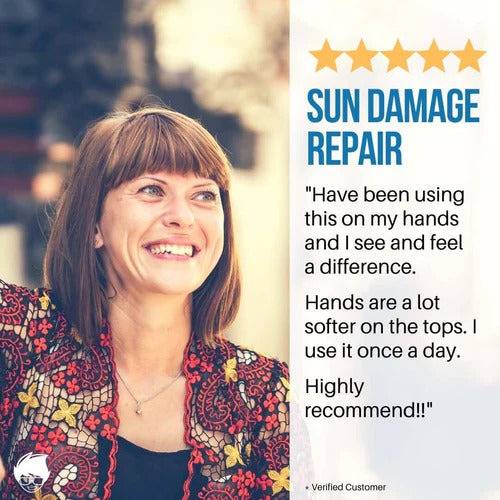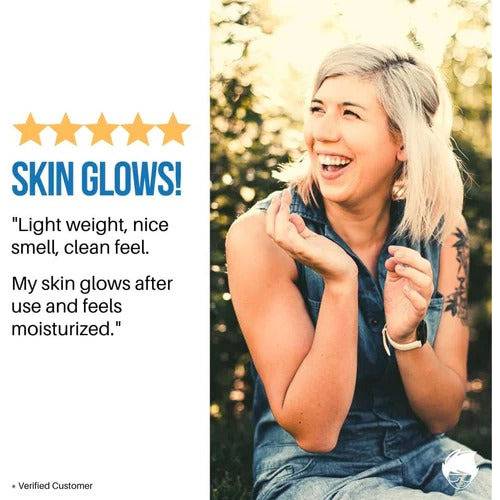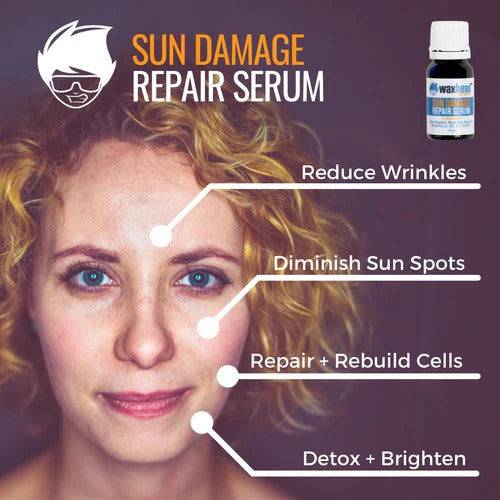 Sun Damaged Skin Repair Serum
Pickup available at Bait Shop location
Usually ready in 2-4 days
Sun Damaged Skin Repair Serum
Bait Shop location
Pickup available, usually ready in 2-4 days
904-0323
Okinawa Yomitan-son Nakagami-gun, Okinawa, Japan 915 Takashihio
Japan
+818064913937
An overnight facial and hand serum with botanical oils to repair sun-damaged skin at a cellular level. Naturally reduce sun spots, wrinkles, acne scars, and fine lines.
Repair, build and smooth skin cells while revealing a natural glow
Can be used on dry cheeks, crows feet + back of hands
Reduces inflammation caused by dermatitis, rosacea + eczema
Made with Certified Organic, Cold-Pressed Rose Hip Seed Oil
Antioxidant-rich with NO synthetic chemicals or toxins
For all skin types. Hypoallergenic and will not clog pores
Glass Bottle = Less Plastic!
Uncommonly Safe
Developed through modern holistic biochemistry, our skincare products are purely beneficial for humans and the planet. Made with only certified organic and superior quality mineral ingredients
Rebuild Skin Cells
UV rays break down collagen and create free radicals that damage skin cell DNA and cause visible skin aging like sunspots and wrinkles. To reverse sun damage this potent yet gentle anti-aging regenerative serum was created by our Stanford biochemist to repair + renew skin and slow the aging process at the cellular level.
Diminish Sun Spots
Antioxidants E fights free radicals that cause sun damage. Vitamin A stimulates skin cell production, and essential fatty aides improve skin tone and texture. Naturally treats melasma, hyper-pigmentation, and age spots on face and hands. Natural Vitamin E shields skin against future UV exposure.
Reduce Wrinkles
Formulated to reduce the appearance of fine lines, repair the skin's surface, restore elasticity, and protect against future sun and pollution stressors that lead to wrinkles. Beta carotene and Carotenoids detoxify cells and increase cell turnover while essential fatty acids rebuild and strengthen skin cell membranes. Vitamin D ensures proper new skin cell development. The serum penetrates into deep layers of skin where Vitamin A stimulates collagen production, repair damaged tissue and improve skin moisture levels.
Detox + Brighten Skin
This lightweight oil goes deep to moisturize, while Vitamin E removes redness and inflammation caused by UV rays, acne, eczema, and rosacea. Vitamin A evens out skin tone and pigmentation for brighter, more radiant skin. Coenzyme Q10 (CoQ10) energizes and regenerates cell structure and protects cells from future oxidative damage.
Uncommonly Simple Ingredients
Waxhead uses only clean, simple ingredients to protect your skin and planet. We combine modern holistic science and ancient ingredients used for thousands of years. Our products contain only superior quality, certified organic, edible-grade ingredients, and NO petrochemicals.
Only 5 Ingredients, 10mL
Our eco-friendly, natural formula only contains ingredients that are plant-based, vegan, certified organic, biodegradable, cruelty-free, non-toxic, hypoallergenic, and non-irritating to sensitive skin. Non-greasy, non-comedogenic, and absorbs easily to leave you glowing. Free of paragons, alcohol, sulfates, synthetic fragrances, synthetic dyes, petrochemicals, and phthalates.
Sun Damage Repair Serum Ingredients
1. Certified Organic Cold-Pressed Rose Hip Seed Oil
2. Vitamin E from non-GMO sunflower seeds (D-alpha-tocopherol)
3. Vitamin D3 (Cholecalciferol)
4. Vitamin A (Retinyl Palmitate)
5. Coenzyme Q10 (Ubidecarenone)
IMPORTANT TO NOTE: Retinoids and Vitamin A should only be applied at night. When exposed to the sun, skin cells suffer from DNA damage. Vitamin A causes cells to divide and multiply. Combining these 2 actions means that DNA-damaged skin cells multiply before they can be repaired by the body's defense mechanisms, effectively locking in the damage. Vitamin A works authentic wonders on the skin when NOT exposed to UV light (for instance, overnight while sleeping).
How to use Waxhead Sun Damage Repair Serum
Use at night only. Shake 1-3 drops onto the palm of the hand. OR some customers take out the plastic stopper from the bottle to more easily pour product into hand. Use fingertips to evenly dot across freshly washed cheeks, forehead, chin, and eye areas before massaging into skin. It can also use the serum on sunspots on hands. In 10-15 minutes the skin will absorb the oil without leaving greasy residues on the skin's surface.
Because of the natural content of Vitamin A, we strongly recommend using serum only at night, while the skin's regeneration potential is peaked. Many users see improvement after nightly use for 2-4 weeks.
Please store in a cool, dark location. This product does not contain preservatives -- and so we recommend using it within one month of purchase. Keep unopened container refrigerated. Recommended for all skin types. For external use only. Avoid contact with eyes. Keep out of reach of children.
Are Waxhead skincare products safe for the environment, reefs, and fish?
Yes, all Waxhead products are safe for marine environments, reefs, and fish. Our products are biodegradable and contain none of the petrochemicals known to have feminizing effects on fish, coral toxicity or bioaccumulation issues.
Are Waxhead products cruelty-free?
Yes, Waxhead absolutely does NOT use any animal testing. We test our sunscreens on humans using the federally mandated FDA sunscreen testing protocol in order to calculate our respective products' SPFs for labeling.
What is the shelf life of Waxhead sunscreens? Do they expire?
In practice, the useful life of our sunscreens has no practical limit, since our active ingredient zinc oxide is a mineral and does not lose its sunscreen capabilities over time. The FDA requires sunscreen products to list a 2-year shelf life, mainly because petrochemical active ingredients degrade over time. Our primary inactive ingredients, coconut oil, and olive oil, are very resistant to oxidation, as they contain significant levels of natural antioxidants, and any of our products with Vitamin E (a powerful antioxidant) have a further defense against spoilage. Plus, zinc oxide acts as both an antimicrobial and antifungal preservative.
Why do Waxhead products cost more?
Our high-quality, safe ingredients, our smaller economies of scale, and our dedication to safe and healthy biochemistry. Learn more
here
.
When does Waxhead sunscreen expire?
Officially, our sunscreens "expire" 2 years after purchase date. However, this is based on FDA directives mainly concerned with the effective life of petrochemicals in common sunscreens. Our Waxhead sunscreens use non-nano un-coated zinc oxide as their sole active ingredient, and since this is mineral-based, our sunscreens' ability to perform its function of defending against UVA and UVB rays never diminishes. Our inactive ingredients contain significant amounts of naturally occurring anti-fungal and antibacterial properties, which significantly slow any spoilage. In short, our sunscreens will work as long as they're owned.
How long does the Sport Stick last?
The answer depends on what areas you're covering. If face only, our sticks will deliver roughly 50-75 applications. If the entire body, roughly 20-30 applications.
Are Waxhead sunscreens tear-free?
All our sunscreens and skincare products are tear-free. We use only non-nano uncoated zinc oxide along with other edible grade, certified organic inactive ingredients.
Are Waxhead sunscreens greasy?
They are significantly thicker and less greasy than common petrochemical sunscreens. About 10-15% of our customers consider our sunscreens "greasy" – compared to 60-80% of common sunscreen customers.
Are Waxhead products vegan?
Because we use certified organic beeswax, our sunscreens are not technically vegan. However, they are certified organic and cruelty-free.
Are Waxhead sunscreens ok for the lips?
Yes. All our sunscreens use only top grade non-nano zinc oxide and certified organic, edible grade inactive ingredients. For our vanilla sport stick, this includes vanilla extract, beeswax, and coconut oil. Just like our lip balms, our sunscreens are thick and tough and take a bit of time to spread and rub in on the lips, but once on, it would deliver the safest, toughest, most eco-friendly lip protection you'll find anywhere.
What function does the vanilla extract serve?
The main function of our certified organic vanilla is for aroma, which is akin to vanilla cupcakes. It also increases the ease of spreading (just a bit).
Are Waxhead containers made of plastic?
Yes, our sport sticks and tubes currently use #4 recyclable plastic. We are working to source a more eco-friendly container, and in our search have found that both compostable and biodegradable plastics may actually have a higher carbon footprint than high-grade conventional plastics. Once we find a definitively improved material, we will make the shift to the new material. Also note that our 0.5 oz field tins, in both vanilla and cocoa tinted, contain the same formulations as our sport sticks, but contained in a reusable, pocket-friendly tin.
Are your sunscreens moisturizing?
Yes, our tube sunscreens contain certified organic extra virgin olive oil, jojoba oil, shea butter, and vegetable vitamin E. Our sticks and tins contain certified organic coconut oil and beeswax.
Does your tinted facial sunscreen dry matte?
Our tinted tube sunscreen tends to dry with a dewey feel, not greasy, but not quite flat or matte. If you need a drier finish, please consider using a facial powder.
Will beeswax in the product clog pores?
Beeswax is actually fairly non-clogging, a 2 of 5 (with 5 being BAD for clogging) on the comedogenic rating system. Beeswax is very good at helping skin retain moisture and allows our sunscreens to stay effective longer once applied. The most clogging ingredient in our sunscreens is coconut oil, which is a bit more clogging than jojoba oil and olive oil, but we include it for its antioxidant and other properties that support healthy skin, especially in the sun.
We Love Fishing!
We love it so much that we have made it
our life's mission to share our passion for sport fishing with as many people as possible, by giving everyone the most action packed and safest fishing experience
possible, at the most competitive and affordable price possible.