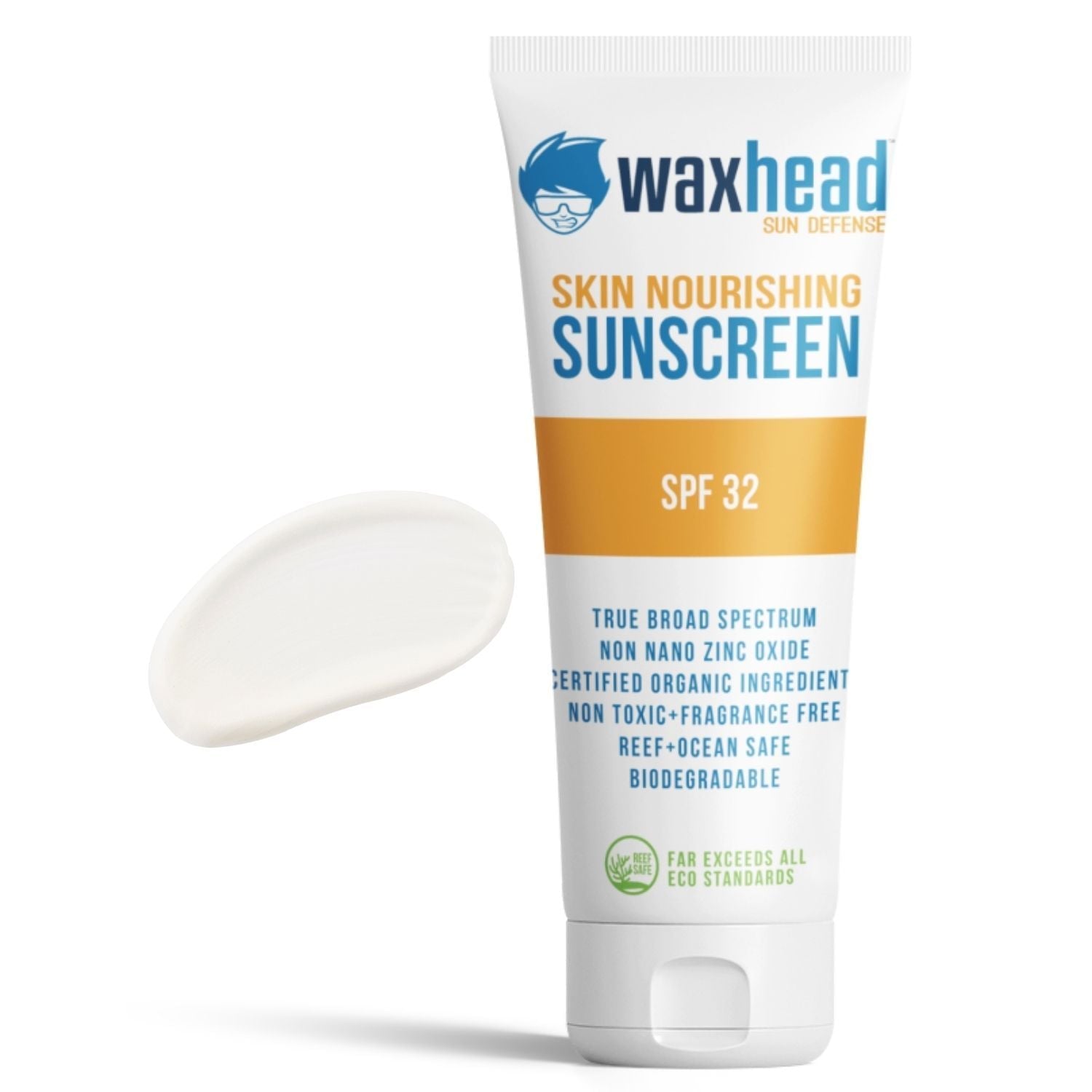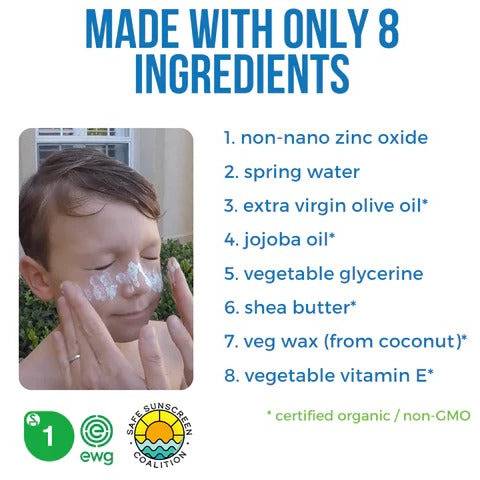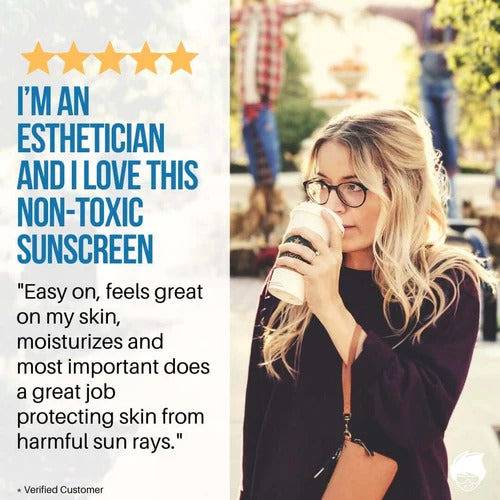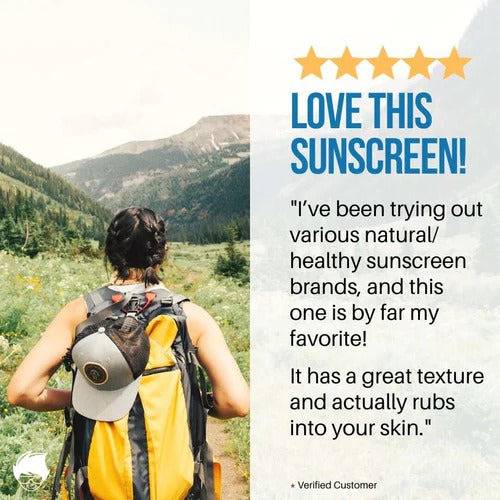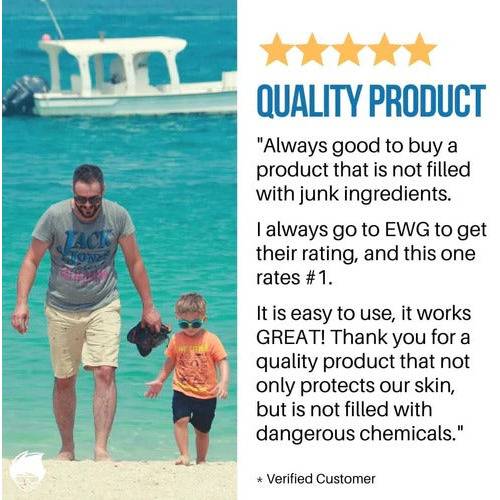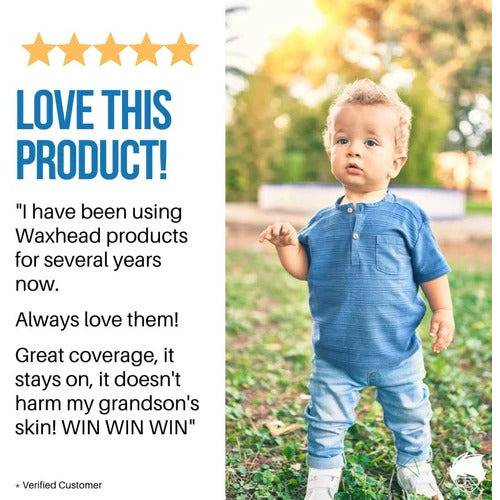 Natural Sunscreen
Bait Shop locationでピックアップ可能です
通常2〜4日で準備が完了します
Bait Shop location
商品のピックアップ可能, 通常2〜4日で準備が完了します
904-0323
沖縄県 Yomitan-son Nakagami-gun, Okinawa, Japan 915 Takashihio
日本
+818064913937
Natural Sunscreen for face Tattoo Sunscreen
"It has a great texture and actually rubs into your skin. Will absolutely be buying again!"— Megan B
Our 100% non-toxic, natural sunscreen is thinner than our Vitamin Enriched Sunscreen. Works great as a tattoo sunscreen too.
Enhanced with organic shea butter, olive and jojoba oil and made with 25% non-nano zinc oxide and 7 other certified organic, edible-grade ingredients.
True broad spectrum 32 SPF reflects over 97% of UVB + UVA rays
Exceptionally clean formula we use only superior quality, minimally processed ingredients
[/shortdesc]
Natural Sunscreen
Natural, skin-nourishing mineral protection for sensitive skin.
A little goes a long way and whitish cast shows where it's working (and where it isn't).
Uncommonly gentle on sensitive skin
Goes on smoothly + Non-greasy + Hypoallergenic
Won't sting eyes + Biodegradable formula
Packaged in 100% recyclable tubes
Dot, spread and rub on skin
See exactly where you're applying it
Uncommonly Safe
Matched to both human and marine bio-systems to deliver the world's safest, most comprehensive, most eco-friendly defense against the sun's UV rays.
Uncommonly Effective
It costs more, but you'll use it all season, and it delivers the safest, healthiest, most comprehensive UVA + UVB protection you can find.
Uncommonly Clean
Skin is actually nourished under the protection of our Zinc Oxide Sunscreen made from just 8 certified organic and mineral sunscreen ingredients.
We blend modern science and old school sense to design eco-friendly tools
to help humans thrive in the sun.
Sunscreen Ingredients Matter
Regardless of marketing messages, it's the actual ingredients that matter. We use only superior quality ingredients.
Our products are FDA-approved and contain certified organic, edible-grade inactive ingredients. See the roster of all our ingredients.
Waxhead is TRULY Reef Safe
Instead of just eliminating oxybenzone or octinoxate, Waxhead sunscreens don't contain ANY petrochemicals. Instead we use non-nano zinc oxide as our sole active ingredient.
This means all our products are truly reef safe, completely safe for marine systems, lakes, reefs and fish (and humans).
FAQs
Will this sunscreen make my skin white?
Yes, some. When used properly, zinc oxide sunscreen gives skin a visible whitish hue. We offer tinted versions to provide a more skin-colored hue.
When will this sunscreen expire?
Technically 3 years from purchase, but the useful life of our sunscreens has no practical limit, since our active ingredient zinc oxide is a mineral and does not lose its sunscreen capabilities over time, EVER. However, the FDA requires all sunscreen products to list a 3-year shelf life (mainly because petrochemical active ingredients in common sunscreens degrade quickly, even on the shelf). Regardless, if you ever feel a Waxhead product has spoiled, just let us know, and we'll send you a free replacement.
Is this sunscreen tested on animals? Is it Vegan?
Waxhead uses absolutely NO animal testing. We test our sunscreens on willing humans using federally mandated FDA sunscreen testing protocol in order to accurately calculate our products' SPFs for labeling. This Zinc Oxide Sunscreen is also vegan.
Why does Waxhead cost more than other sunscreens?
Our prices represent a true cost to the world. We source our top-grade ingredients only from reputable, fair-trade, cruelty-free companies that are almost entirely US-based. We don't purchase ingredients from countries with questionable labor or production practices. Learn more.

Why Choose Waxhead?
Because Biochemistry Matters
Waxhead products are designed using top-level biochemistry knowledge.
We use a complete holistic appreciation for how our formulations react with skin in the sun and how they affect our environment.
Because We Take Care of our Customers
We pretty much cherish our customers. When they have questions about skincare, we give our full unbiased info and opinions.
In the rare instances when they have problems, we do all we can to make them happy.
---
"Waxhead is one of the best sunscreens for kids."

"Waxhead is one of the best Beach & Sport, Kid-Friendly sunscreens."

"Waxhead provides full protection and you won't damage the oceans."

We Love Fishing!
We love it so much that we have made it
our life's mission to share our passion for sport fishing with as many people as possible, by giving everyone the most action packed and safest fishing experience
possible, at the most competitive and affordable price possible.